B2B Social Network Advertising
Because social networking sites require member registration and obtain rich information about their members, social media advertising is highly targetable based on user data and demographics such as gender, location, interests and professional status.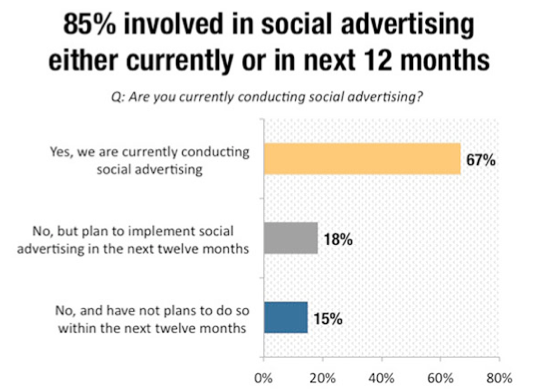 Source: Pivot Conference, Trends in Social Advertising
Advertising on social networks is a rapidly growing trend within social media marketing that should be considered as part of any social media marketing plan.
More than half (59%) of US marketers and agencies planned to increase their social media display ad spending on sites like Facebook in the next 12 months. In comparison, less than a third (31%) planned to boost display ad spending on ad networks and exchanges, and just 29% expected to do so on publisher sites.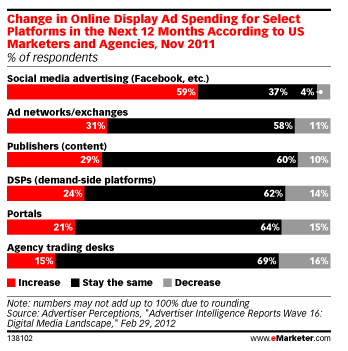 Facebook Advertising

With over 800 million active users, Facebook is the largest social network online today. Because of its popularity and ability to target users based on their profile data, Facebook is a very attractive platform for advertisers.

Facebook offers simple image and text-based ads that are highly targeted toward user data, with the ability to test multiple ad versions to maximize the effectiveness of your campaign. With controllable ad costs, flexible pricing structures, and its own tracking analytics, Facebook ads can be a very effective way to reach your target market.

LinkedIn Advertising

LinkedIn is the professional social network that boasts over 140 million members. LinkedIn offers several different advertising options that range in visibility and affordability, including self-service ads called DirectAds and more robust advertising options leveraging multiple display ad formats, as well as others.

On LinkedIn, advertisers have the ability to target users by job title ad function, seniority, company name, company size, and industry. Such granular professional targeting options make LinkedIn a very effective B2B advertising option.

Twitter Advertising

Twitter offers its own advertising options in the form of Promoted Tweets. Promoted Tweets are ordinary tweets that advertisers pay to highlight to a wider group of users. Displayed at the top of Twitter.com search results pages and in some users' tweet streams and third-party Twitter applications (such as TweetDeck), Promoted Tweets are very visible and retain all the functionality of a regular tweet. Twitter also offers Promoted Trends and Promoted Accounts.

Blog Advertising

These days, some blogs get more traffic and break more news stories than the major news networks. Some blogs are required reading. Many blogs have become invaluable resources for very niche audiences, and you can find almost any niche small or large represented.

Many popular blogs are now represented by blog advertising networks which have unique ad platforms and delivery systems. If you're looking to target by a particular audience type, chances are you can do so effectively through blog advertising.