Trade Show Marketing
Planning for a trade show doesn't start a month in advance. It doesn't start two months in advance. In fact, it can take anywhere from six months to a year of planning to do it right.
Trade show marketing is a very strategic process. You have to come up with your strategy and messaging, and make sure everything relates back to your business goals. This includes all your online and offline promotions, any handouts and even the giveaways you distribute. It is no simple task and not every trade show is the same, but if you take it one step at a time you can have a successful inbound trade show that achieves high return on investment (ROI).

Most important, once you figure out how the trade show can meet your business goals, figure out if the cost is worth it. Will you make up for the money you spend on trade shows on new customers and increased revenue? Figure out the ROI of sending your staff to the trade show. Could they be doing something else that is cheaper and more effective to generate leads?

Your marketing campaigns should help your business achieve specific goals and metrics. Trade shows are no different. Trade shows present an opportunity to get quality leads, spread brand awareness and meet other objectives.
The goals of trade show marketing can include: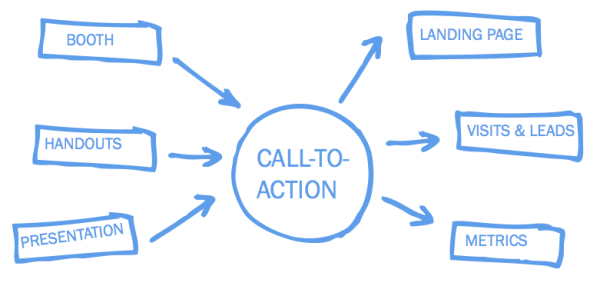 An increase in new leads and sales

An increase in organic and direct traffic

An increase in social media following

An increase in email and/or blog subscribers
As you set your goals, make sure you have access to metrics that will enable you to track progress. Ensure that your marketing system can measure these channels and provide evidence to management about the performance of your event.

Once you set your goal and decide what metrics you will use to track progress, you will need to figure out how to get there. What will be the means of achieving your goals?

While you are creating your strategy, make sure you are thinking about what your call-to-action (CTA) will be. Your CTA should be integrated into every aspect of your strategy because, ultimately, it will be the key to reaching your goal. Consider the CTA's role in everything, including your signs, landing page, booth, goals and metrics.

In trade shows, as in all other marketing campaigns, the call-to-action remains the key element connecting your marketing goal with the means of achieving it.